First, CONGRATULATIONS if you are currently pregnant or contemplating pregnancy! What an exciting time of life! This can also be a season where you are processing A LOT of information and getting A LOT of advice (solicited or not). This blog post is designed to 1) help you sort through information about exercising while pregnant, and 2) provide best practices when using Myzone throughout your pregnancy.
Here are our top five recommendations:
#1: Consult with your health professional team
As you will notice with many things during pregnancy, it is best to consult your physician before proceeding with an exercise program (especially if you have not been a regular exerciser prior to pregnancy).
If you follow Gemma Atkinson (English actress and fitness enthusiast) on social media, you would have seen her wearing her Myzone belt during a home workout using body weight and light dumbbells. She was wearing her belt to keep her heart rate in the "safe zone" that she and her medical team determined was right for her and baby. In the same post, Gemma encourages women to seek advice from their health professional team to determine the same.
Most governing bodies within the medical professions give the green light for exercise (even vigorous exercise) while pregnant, especially if you were active prior to pregnancy. If you are just starting an exercise program, ease your way into it by using low to moderate intensities (gray, blue, and green zones) and low-impact movements (i.e. indoor cycling, elliptical).
If your physician provides you with intensity recommendations, you can use your Myzone belt to monitor your intensity and stay within the recommended parameters. For example, if your physician tells you to avoid vigorous intensities, you can focus on staying within the gray, blue, and green zones.
#2: Choose your exercises wisely
When you are exercising during pregnancy, we recommend choosing movements that feel good to your body and leave you energized and refreshed. There are certain exercises to avoid for the safety of you and your baby:
Avoid overheating. This is especially important during the first trimester. You may notice that your personal thermometer has gone up while pregnant – there are many physiological processes taking place within your body to support the growth of your little one that causes your temperature to rise. Overheating can be harmful to both you and baby. So, hot yoga is probably off-limits during pregnancy. And, if you are taking an indoor cycling class, try to leverage a position near a fan. But always stop exercising if you feel overheated.
Avoid high impact activities (i.e. excessive jumping) and/or activities where there are fall risks (skiing, skating, contact sports). For obvious reasons, you do not want to put yourself, or baby, at unnecessary risk.
Avoid twisting while standing. Because organs, muscles, and connective tissue in your abdomen and pelvis are re-situating throughout pregnancy, it is best to avoid twisting movements that can cause strain on your abdomen and hips.
Avoid exercises that use hip flexors in excess (i.e. double leg raises, full sit-ups). Related to the point directly above, your hips and pelvis are also undergoing structural changes throughout pregnancy. Your hip flexors play an important role in stabilizing your pelvis, and they attach to your lower back. Performing movements that strain your hip flexors can compromise pelvic stability and cause low back pain (something you are already going to be working hard to avoid).
#3: Listen to your body – respect your limits
Gemma Atkinson acknowledged in her social media post (mentioned above) that the workout she did using her Myzone belt would have been more of a warm up prior to pregnancy, but during pregnancy, it was plenty of a workout.
Use your Myzone belt to help you determine which movements and which intensity zones feel right for you and baby. Label your workouts and rate them within your activity calendar to help you remember which activities you enjoyed most. You know your body best, so honor it during this very special process.
#4: Hydrate, fuel, & re-fuel
Water consumption is important during pregnancy; therefore, it is key to hydrate before, during, and after exercise. General recommendations (and, again, this is a good item to speak to your health care team about) are:
–Drink 2-3 cups of water 2 hours prior to exercise
-Drink 1-5 cups of water 10 minutes before exercise
-Drink 1 cup every 15-20 minutes during exercise
Of course, these recommendations are going to vary from person to person, and the consideration of how often you will need to visit the bathroom (another adventure during pregnancy) will also come into play. Keep in mind it is just as important to hydrate after exercise – 2 to 3 cups of water following moderate to vigorous exercise should do the trick.
Your caloric consumption will also increase during pregnancy. General recommendations (speak to your health care team) are:
–Consuming regular caloric intake during the 1st trimester
-Consuming 300-350 extra calories during the 2nd trimester
-Consuming 500 extra calories during the 3rd trimester
-If you are carrying multiples, you will need to consume around 300 extra calories per baby.
You can use your Myzone system to get an estimate of the number of calories that you are expending during exercise so that you have a better idea of how to replenish your calories. If you have a high calorie output workout, you may want to replenish a few more calories during your next snack or meal.
#5: Enjoy and celebrate your pregnancy and your changing body!
This is a time of life to be cherished and celebrated! Snap photos of your bump in motion and add them to your Myzone activity calendar. You can then look back over the course of your pregnancy and celebrate the different types of exercise you performed, and your beautifully growing baby bump. What a fun memory to share with your little, and what a great way to inspire them to also enjoy moving their body.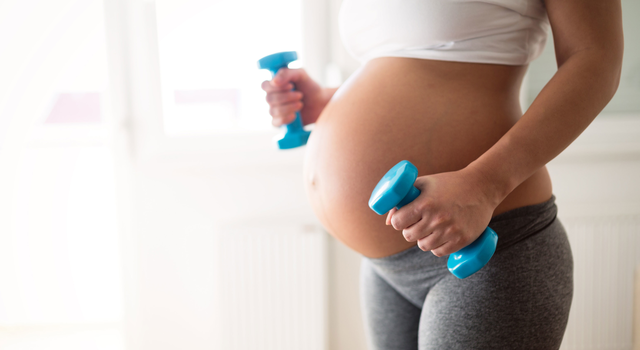 We wish you and your growing family all the best! And, as always, keep moving forward!