If you've ever completed a Tough Mudder, then you know that epic is an understatement. A classic Tough Mudder consists of one 9-mile loop of mud-soaked mayhem loaded with 25 best-in-class obstacles that maximize your strength and ultimately test your limits. The obstacles often play on common human fears, such as fire, water, electricity and heights to push you into new realms. It is a chance for you to move outside of your comfort zone, discover what you're made of, and cross that finish line stronger than when you started.
Seven members of Myzone's partnership company, InBody, took the plunge into the chaos that is a Tough Mudder and completed the race in just four hours, while wearing their Myzone belts of course.
"Our Myzone belts were able to work through it all"
Sales Associate for InBody, and avid user of Myzone, Jeff Mangold, said, "This was my first Tough Mudder, and I found the biggest obstacle to be the mental aspect. The course consisted of running up and down hills and basically mountains, with different obstacles intermixed that ranged from crawling through a tunnel filled with water, climbing a 30-foot wall, doing monkey bars across a pond, army crawling on your hands and knees, and at times being completely submerged under water. It was great that our Myzone belts were able to work through it all."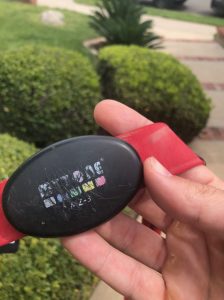 Most people discover while preparing for a Tough Mudder that it is not so much a race, but a challenge. Because the event consists of a wide variety of exercises, solidifying a training plan is crucial. Anyone who enters a Tough Mudder should probably be in decent physical condition beforehand; however, adding extra running and high-intensity routines definitely won't hurt your chances of finishing.
"With Myzone, I was able to monitor my workouts in real time"
"I've always been active and worked out, mainly with body building which was a lot of lower heart rate activity, my heart rate would never really spike during that. When I signed up for the Tough Mudder last November, I knew that avoiding fatigue and establishing endurance would be key. I started taking a lot of HIIT classes and FitBody Bootcamps. Myzone helped me to stay accountable in my workouts and know how hard I was pushing. If I did a set of weights, then I would follow it up with a set of mountain climbers in between to keep my heart rate high throughout. I was able to monitor my workouts in real time, so if I saw I entered the gray zone, I knew that I had been resting for too long and needed to start pushing again," said Mangold.
The Myzone App gives real-time feedback during each workout to encourage effort in the moment. The app is user-friendly and intuitive, allowing you to see results anywhere, anytime. You can compete and connect with friends, view workout history, enjoy social sharing, participate in leaderboards, and build a community. With the app, you can view your own workout data as well as your social connections, and like and comment on each other's workouts, a feature that is great for creating a team atmosphere and encouraging support.
"Myzone held us accountable because we could see each other's workouts and know how often everyone was training"
"In total we trained for about four months and used our Myzone belts throughout the process as well as during the race. It really held us accountable because we could see each other's workouts and know how often everyone was training and how hard they were working. I always have the energy to push myself to get to the gym, so the workout feed was helpful for my friends because they could see every time I went to the gym, which would then help motivate them to go too," said Mangold.
Jeff was not the only one to ride the Myzone wave throughout the Tough Mudder. His teammates, Austin Eminhizer, Daniel Holman, and Maren Lewis also sported their belts during the journey. The team learned the value of camaraderie throughout training and the race, relying on the "no man left behind" mantra to encourage complete group participation ensuring they all crossed the finish line, together.
"We were 'Powered by Myzone' throughout the race"
"Because Myzone played a big role in the months leading up to the Tough Mudder, we came up with the idea to create Myzone branded shirts to wear while training and during the race. The back of the shirt read, 'Will Run for Booze' with the Myzone logo on the front. We were playing on the idea that we did the Tough Mudder for the free beer afterwards, but that we were 'Powered by Myzone' throughout the race," said Mangold.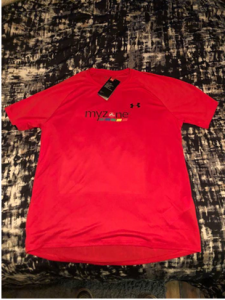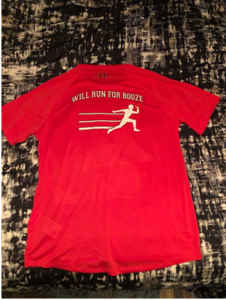 For anyone that uses Myzone, you understand the MEPs epidemic. Once you start earning MEPs, every workout turns into a competition with yourself to see how many more MEPs you can earn compared to your previous workout. Jeff and his team had no problem earning their MEPs. The four team members that wore their belts during the Tough Mudder finished with a combined total MEP count of 2,895. I think it is safe to say the team worked hard, and definitely earned their booze.